By Ilyasa Baa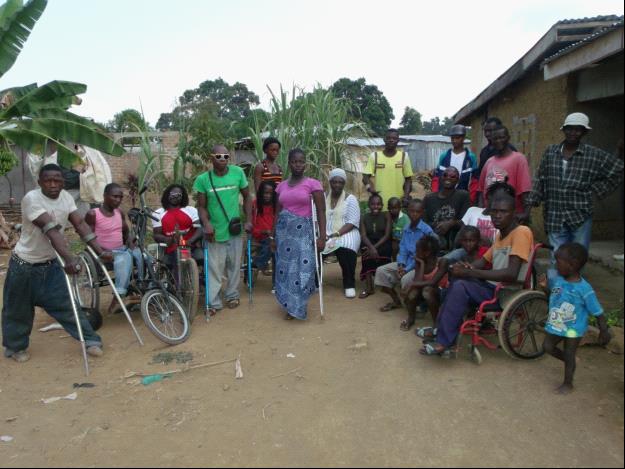 Secretary of the Hastings Polio Persons Organization, Isaac Kamara has expressed his appreciation over the concerns showed by JAFAI (NGO) as its CEO Haja Fatima Savage promised on visiting them on Wednesday that she would provide mattresses for those who are most in need, as part of her good gesture towards disable people in the country.
Speaking from his wheel-chair, Isaac mentioned that what they wanted most at the moment are mattresses as most of them manage to sleep on card-boards instead of mattresses. He said with the promised mattresses, the beneficiaries will have better places to sleep and escape the possibility of sicknesses and death as three members (polio persons) had died due to exposure over the years. He added that they lack proper dwelling places noting that they are neglected by government. He further informed this medium that they need tools and an enabling environment to carry on with tin-smithery as their major income generating activity.
CEO JAFAI, Haja Fatima Savage (Masters Degree in Business Management) assured that as soon as possible, she will purchase over ten mattresses to supply the most vulnerable polio persons in Hastings. She said having worked on disability issues for the past few years in Sierra Leone, she was impressed with that organization, adding that they need serious attention to make them live like human beings.
In another development, JAFAI extended its good will to Polio Women and Girls Development Organization also in the Hastings Village, Western Rural District. On Wednesday, JAFAI's CEO also paid visit to this set of polio persons and assured them of a water-well which she said will be shortly constructed to ease the constrains suffered by these polio women and children. According to her, she has no political intention at the moment, underscoring that she uses her personal money to support disable people, especially in Freetown.